The World's Mightiest Heroines!
Authentic Heroines
is a unique, stand-alone superhero setting featuring the wonders and mystery of the Authentic Universe - a world that evolved in such a way that all of the setting's iconic and most powerful superheroes are women.
---
Authentic Heroines: The Guide To Solar Woman
Available for Pre-Order (Release Date: May 30)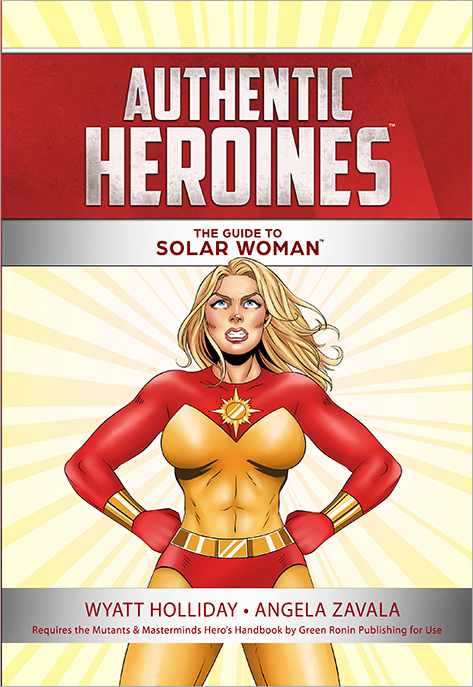 ---
Authentic Heroines: The Guide to Solar Woman
brings new characters and settings to the Third Edition of the World's Greatest Superhero RPG, Mutants & Masterminds!
This book introduces
Solar Woman
, the most powerful superheroine in the Authentic Universe, and includes full details and character write-ups for her allies, supporting cast, and enemies, along with the complete and fully-comprehensive setting of Empire City, as well as several adventures primarily designed for one player and a GM (though details will be provided to include more players).
Within these pages, you will discover:
The Secret Origin of Solar Woman, a heroine known to the world fifteen years earlier as "The Girl Who Disappeared on her Birthday," inexplicably returning a year later with immense power, but no recollection of the events.
The History of the Authentic Universe, a guide to the unique superhero setting that evolved in such a way that all the iconic and most powerful superheroes are women.
The Player's Guide to Empire City, which provides M&M players and GMs with everything they need to know about the city and its history, geography, prominent locations, and notable inhabitants, including full-color maps of the city and its surrounding areas.
Four complete adventures specifically designed for Solar Woman, with additional rules and guidelines for including other heroines and players in the adventures, spotlighting fearsome villains such as The Mechalith, a sentient mechanical armor that controls its host, instead of the other way around, Princess Darcovia, daughter of a tyrannical alien empress, who has sworn to destroy Solar Woman at all costs due to "crimes" against her empire and family... and more!
Beyond Empire City, an introduction to Rivlunn, an alien world that considers Solar Woman its savior after she drove away the cosmic-level threat of Kor'Dhum the Ravager, and includes full details and information regarding Kor'Dhum itself.
Additional and fully playable allies to team-up with Solar Woman, including Aditi, the immortal goddess of the skies!
Full-Color Paperback: $15 US (Will be available everywhere books are sold, as well as our website store)
Bookmarked PDF: $10 US (includes Hero Lab files for every character in the book)
Format: 64 pages, full-color
Authentic Heroines: A World of Women Empowered!
---
I am no stranger to these forums (despite this account's 1 post, so far), and I've been here since the Atomic Think Tank went live.
My M&M experience dates back to the difficult struggle of trying to choose between the 1st edition and Silver Age Sentinels at the time, and it would appear I backed the right horse. For months, I hyped an M&M campaign that I had began designing for my tabletop group, waiting for the moment that 2e was released, and then that campaign lasted over 5 years, when I turned a group that boldly stated: "We'll never play any game that doesn't have a sword" into die-hard M&M players.
For more details and information, please feel free to check out our website:
Authentic Heroines
If you want the full background, this
Blog Post
provides much more insight.
You can also follow us on our brand new
Facebook Page
.
And finally, we're also on
Instagram
and
Twitter
!
All future updates will also be posted in this thread!
Thank you,
Authentic Heroines