Greetings M&M Fans!
Rogues, Rivals & Renegades Collection One is now LIVE!
Click on the link above for the first collection of Rogues, Rivals & Renegades: Over 20 issues!
Collection One is a $25.00 PDF, or $34.99 for the Print on Demand book. You can get both for $39.99! (Print & PDF just 5 dollars more than the Print!)
113 pages of full color content! Characters, standees, supporting cast, and two articles outlining the METAs agency and the Rogues, Rivals & Renegades series!
Rogues, Rivals & Renegades Category on Drive Thru RPG
The META Agency history and organization
Rogues, Rivals & Renegades Series Information and Details
Vigilance Press Releases:
Rogues, Rivals& Renegades
Rogues, Rivals & Renegades Collection One at Drive Thru RPG
Series 01 (Collection One contains all of Series 01)
Rogues Series 01
Rogue: The Krampus
Rogue: Fright Knight
Rogue: Afterburner
Rogue: Coldsnap
Rogue: Dr. Grimm
Rogue: Black Heron
Rogue: The Thespian
Rogue: Ticktock the Clockwork Kid
Rogue: The Conductor (and Overclock)
Rogue: Minotarr
Rogue: Dr. Wachsfigur
Rogue: Calypso
Rogue: El Conquistador
Rogue: VXen
Rogue: Iron Dog
Rivals Series 01
Rival: Captain Archon
Rival: Mithra
Rival: Trainwreck
Renegades Series 01
Renegade: Blatto
Renegade: Covenant
Renegade: Doctor M
Renegade: Manitou
Renegade: Nikki Tesla
Solo Issues: Series 02
Renegade: Rayzer
Rogue: Acid Beth
Rogue: Fineous Frost
Rogue: Professor Pleistocene
Rival: Shockwave
Rogue: Tr011
Rogue: Metacide
Rogue: Blackbody
Rogue: Pitch
Rogue: Apogee
Renegade: Warchild
Rogue: Breaker
Rogue: Road Hazard
Rogue: Zarathustra
Rogue: Changeup
Rogue: The Unspoken
Rogue: Blackwing
Rogue: The Hierophant
Rogue: Obsidious
Rogue: Cro-Magnum
Renegade: White Room
Renegade: Kogar
Special Edition: Enhanced Animals
Special Edition: Companies
Here's a preview of the cover of Rogues, Rivals & Renegades Collection One!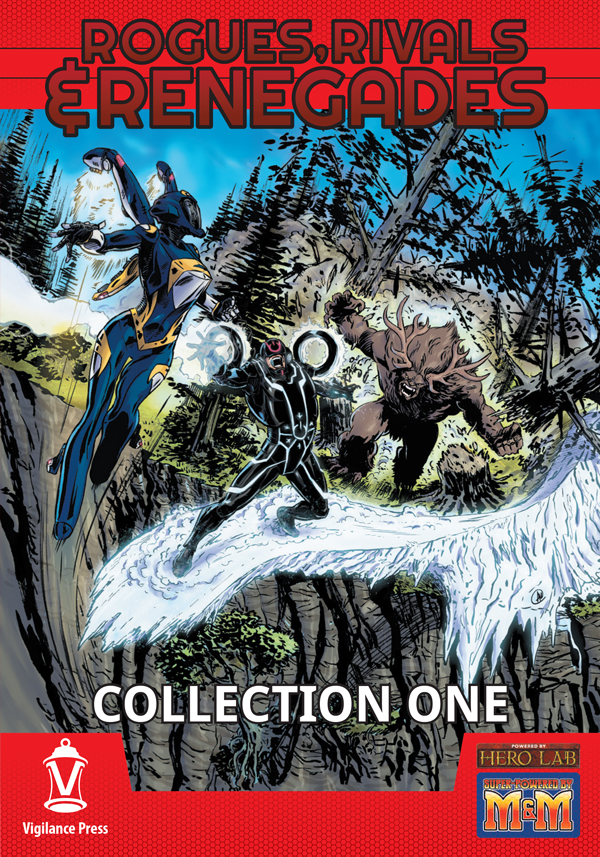 Latest Release: Companies