54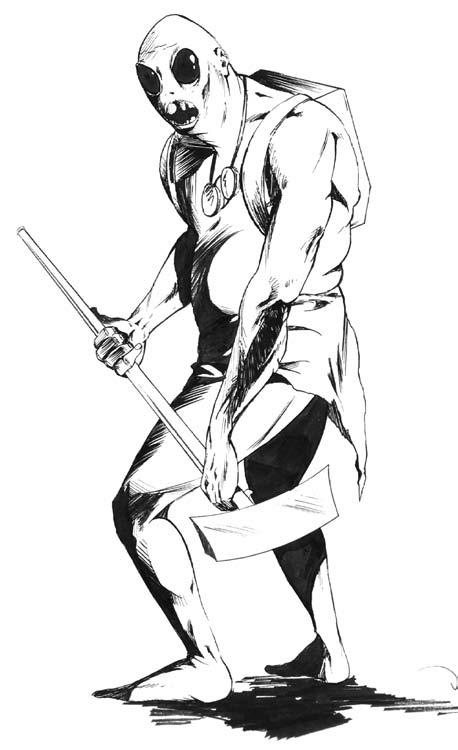 Mole-Men
PL 6 47
Strength 3, Stamina 2, Agility 0, Dexterity 0, Fighting 4, Intellect -1, Awareness 0, Presence 0
Powers
Underground Eyes
Senses 2 (Darkvision)
Furnace dwellers
Immunity 1 (heat)
Tunnel People
Senses 1 (Direction Sense)
Advantages:
Equipment 4, Language (Lemurian, base-Mole Man Sign Language), Ranged Attack 4
Equipment:
Stoking Staff (Blast 7, AE: Strength-based Damage 3), Bat-Wings (Flight 2, Wings), Smoky-Lensed Goggles (Feature 2 +5 circumstance bonus against visual dazzles)
Skills:
Expertise (servant) 4 (+3), Perception 1 (+1), Ranged Combat (staff) 1 (+5), Stealth 4 (+4), Technology 6 (+5)
Offense
Initiative +0
Stoking Staff +5 Damage 7
Defense
Dodge 6 (
6
), Parry 6 (
2
)
Toughness 2, Fortitude 4 (
2
), Will 1 (
1
)
Abilities 16+Powers 4+Advantages 9+Skills 7+Defenses 11=47
Complications
Light sensitive
Mole-men are bred for the darkness of poorly lit underground tunnels, and while their goggles help against certain bright lights, if they were stripped of them, they woudl find normal daylight highly disorienting.
Conditioning
Mole-Men are born to be servants of the Lemurians, they can't really conceive of anything else.
•
The Mole-Men are mutants that were once humans, twisted by tens of thousands of years living underground near the mystic material Ignaetium, the power source for much of Lemurian magitek. Through mental conditioning, the once human subjects of the Lemurian empire became the Lemurian's servants, with a certain intelligence their own, but constantly underused and left to fend for themselves in great underground warrens. Armed with technology they are capable of maintaining, the Mole Men do most of the work of keeping Lemuria going day to day, from bulk labor to palace servants (though Lemurians find them clumsy and ugly for such work), to making up the infantry force of any Lemurian military formation.
•
Mole-Men: Tragic uggos the PCs will face in hordes if they ever really get into it with Lemuria. Despite their small stature, they are fairly strong and tough, as befitting laborers, and their weapons are beyond most conventional small arms used by humans. They're undercapped on Defense, but can actually pose a threat on offense, with their weapon/mining implements more than a match for your average soldier. Of course, to PCs they're just mooks, and the real threat are their commanders and masters-the Lemurians.