42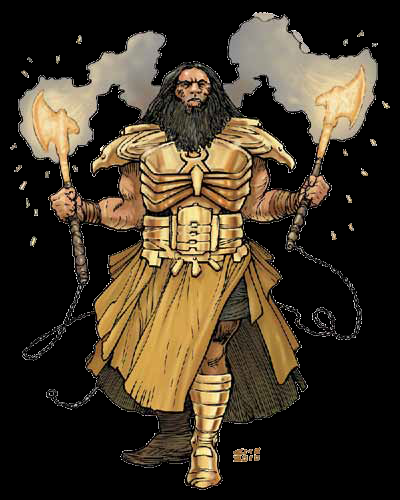 Golden Axe
PL 10 146
Strength 5, Stamina 5, Agility 2, Dexterity 2, Fighting 10, Intellect 0, Awareness 1, Presence 3
Comet Axes
(Easily Removable)
5
Axe Blades
Strength-based Damage 4, Improved Critical, Enhanced Advantage-Takedown
Cavern Maker
Burrowing 1
Swift
Speed 1
Enchanted Golden Armor
(Removable)
10
Magical Plates
Protection 5, Impervious Toughness 7
Advantages:
Animal Empathy, Daze (Intimidation) Diehard, Fast Grab, Favored Environment (fighting with brothers), Great Endurance, Improved Initiative, Language (English, base-Chinese), Luck, Power Attack, Ranged Attack 5, Sidekick 15, Teamwork, Tracking
Skills:
Acrobatics 5 (+7), Athletics 6 (+11), Close Combat (axes) 1 (+11), Insight 6 (+7), Intimidation 9 (+12), Perception 8 (+9), Sleight of Hand 3 (+5), Stealth 6 (+8)
Offense
Initiative +6
Unarmed +10 Damage 5
Axes +11 Damage 9
Defenses
Dodge 10 (
8
), Parry 10
Toughness 10/5, Fortitude 10 (
5
), Will 8 (
7
)
Abilities 56+Powers 16+Advantages 31+Skills 22+Defenses 20=146
Tiger PL 7 72

Strength 5, Stamina 5, Agility 3, Dexterity 0, Fighting 6, Intellect -3, Awareness 1, Presence 0

Powers:
Animal Senses Senses 4 (Low-light vision, Acute & Extended Scent, Extended Hearing)
Fast Speed 2
Claws and Teeth Strength-based Damage 2, Improved Critical
Big ups Leaping 1

Advantages: Defensive Roll 2, Startle, Takedown, Teamwork, Tracking

Skills: Acrobatics 2 (+5), Athletics 5 (+10), Close Combat (claws) 1 (+7), Insight 2 (+3), Perception 6 (+7), Stealth 6 (+8)

Offense Initiative +2, Claws +7 Damage 7

Defense
Dodge 7 (5), Parry 7 (1)
Toughness 7/5, Fortitude 7 (2), Will 4 (3)
Complications
Temper
Golden Axe is normally a fairly genial guy-for a killer-but if something happens to his brothers or tiger, he'll fly off the handle.
Loyal
To his father, Dr. Wu
Born Warrior
Golden Axe loves to fight, and will go out of his way to fight the biggest and strongest warriors he can.
Weakness
As a homunculi, Golden Axe is vulnerable to certain magical effects.
Wanted
As a follower of Dr. Win Yu, Golden Axe is considered a dangerous criminal outside the Iron Khanate.
•
Golden Axe is the big guy of the Sons of the Dragon, although he's not a dummy. He just likes to fight-its what he's good at, and its what he was made for. A skilled and strong warrior, Golden Axe will usually be the first to leap into combat, either with his tiger or one of his more violent brothers like Iron Whirlwind. He's not the goonsweeper Copper is, but's he's tougher and stronger and can Power Attack his way to big damage when he needs to cut through positively anything. His pet tiger is dangerous, but mostly because its not a Minion-your average hero would have no problem with it, except for the fact that its always by Golden Axe's side.