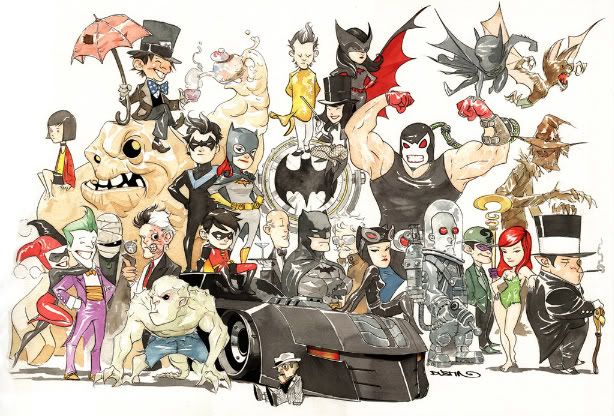 Batgirl III's Ronin Army Character Thread
Index Last Updated:
August 17, 2015
Welcome to my newest (yet still humble) Character Thread for the new forum. I hope to pick up where I left of from my previous Atomic Think Tank
Second Edition
and
Third Edition Threads
. In those older threads I have many builds for the JLA, a general guide to Gotham City, a repository for stuff from my home-brew campaigns, random builds, GMing tips, and whatever else I felt like posting. With time, many of my old favorites will be brought over as well as any new stuff as the mood strikes.
Sit back, pour yourself some coffee, and watch out for the bats.
Critiques and comments always welcome, and so are good old fashioned nitpicks.
Batgirl III's Bat-Rants
Batgirl's Guide to Capes
Saga War Game Review
Original Character Builds
Doctor Marvel (PL 10 / 150 PP)
(
PL 14 / 210 PP
)
Agent V
Artifice
Blackbird
Cupid
Dream-Thief
E-Lass
Girlilla
Kid Cannon
(
Playtest
)
Molly MacArbe
Tessa MacArthur
Mallory McQueen
Muddle
Scythe
Shadowbat
Sting
Tamarah
Cape City Builds
Cape City Setting Thread
Ace Assassin
Aqua-Marine
Blue Yonder
Captain άbermensch
Chlorofoe
Dog Meat
Eclipser
Eventide
Exemplar
Golem, The
Futurist, The
Jackie O'Lantern
Killer Queen
Maxxam
Rundown
Stormbringer
Suicide Kings
Technocract
Tempest
Ultra-Marine
Vesper
Wonderful Wizard, The
Wrymageddon
Wόlfpack
Anime & Manga Builds
Sailor Moon
Sailor Mercury
Sailor Jupiter
Sailor Mars
Sailor Venus
Tuxedo Mask
Other Media Builds
Skitter
Technician
Warhammer 40,000
Imperial Space Marines
Space Marines Rank and File
Space Marine Apothecary
Space Marine Bikers
Space Marine Captain
Space Marine Chaplain
Space Marine Dreadnought
Space Marine Librarian
Space Marine Scouts
Space Marine Sternguard Veterans
Space Marine Servitors
Space Marine Techmarine
Space Marine Terminators
Space Marine Vanguard Veterans
Space Marine Veteran Sergeants
Vehicles: Space Marine Aerospace
Vehicles: Space Marine Drop Pod
Vehicles: Space Marine Land Raiders
Vehicles: Space Marine Land Speeders
Vehicles: Space Marine Tanks
Vehicles: Space Marine Thunderfire Cannon
Imperial Guard
Imperial Guard Rank and File
Imperial Guard Hero
Imperial Guard Rough Riders
Vehicles: Imperial Guard Aircraft
Vehicles: Imperial Guard Baneblade
Vehicles: Imperial Guard Chimera
Vehicles: Imperial Guard Basilisk
Vehicles: Imperial Guard Hellhound
Vehicles: Imperial Guard Leman Russ
Vehicles: Imperial Guard Sentinel
Craftworld Eldar
Eldar Rank and File (Guardians)
Dark Reapers
Dire Avengers
Eldar Jetbikers
Fire Dragons
Howling Banshees
Shining Spears
Striking Scorpions
Swooping Hawks
Warp Spiders
Vehicles: Wave Serpent
Other Factions
Necron Warriors
Ork Boyz
Ready to Play Builds (DC)
Aquaman
Atom, The
Batgirl (Cassandra Cain)
Batman
Beast Boy
Black Canary
Black Lightning
Blue Beetle (Ted Kord)
Brainiac 5
Booster Gold
Catwoman
Deathstroke
Doctor Mid-Nite
Donna Troy
Firestorm
Flash
Green Arrow
Green Lantern
Hawkman
Kid Flash
Killer Frost
Laurel Kent
Martian Manhunter
Mister Terrific
Nightwing
Plastic Man
Raven
Robin
Superman
Supergirl
Starfire
Stargirl
Terra
Triplicate Girl
Triplicate Girl
Triplicate Girl
Ultra Boy
Vixen
Wildcat
Wonder Woman
Zatanna
Ready to Play Builds (Marvel)
Angel
Banshee
Beast
Black Widow
Captain America
Cyclops
Colossus
Deadpool
Gambit
Jean Grey
Hawkeye
Hulk
Iceman
Iron Man
Invisible Woman
Mr. Fantastic
Multiple Man
Namor
Punisher
Rogue
Scarlet Witch
Shang Chi
She-Hulk
Spider-Man
Storm
Sunfire
Thing, The
Thor
Wasp
Wolverine
Ready to Play Builds (Other)
Dragon