BIOPUNK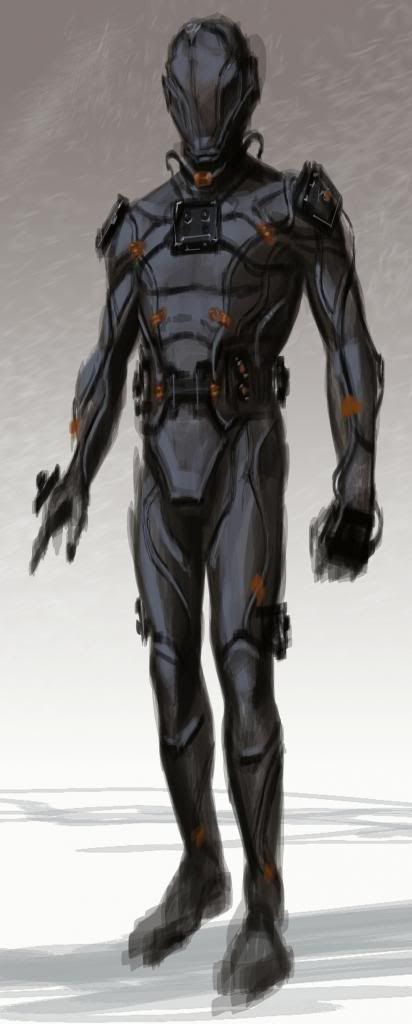 (The suit has a more organic chitin and muscle look, but this is close.)
Alias: Biopunk, Yulian Bastil
Real Name: Jason Creed
Age: 27 yr.
Height: 5'9"
Weight: 150 lb
Gender: Male
Eye Color: Green
Hair Color: Black with dark green highlights (dyed)
Relatives: None living.
Ethnic Background: Caucasian
Legal Status: US Citizen with crimal record (vigilante, medical crimes, cyber crimes).
Occuptaion: Vigilante, Mercinary, former Bio-tech researcher.
Affiliation: Annex (former member), Kirr Industries (former employee)
PL:
10
PP:
150
ABILITIES:
STR 10 CON 10 DEX 10 INT 20 WIS 12 CHA 18
SAVES:
Tough +0(+12 with Armor) Fort +5(+8 w/Armor) Ref +5(+8 w/Armor) Will +12
COMBAT:
Base Attack +4 ; Melee Attack +4: Bio Weapons (+8 DC 27 Tough), Microbial Infection (+8 DC 22 Fort.) ; Range Attack +4: Bio-Weapons (+8 DC 27), Bio-Weapons (DC 18 Ref. DC 23 Tough) ; Defenses +8(+5 w/o Armor, +2 FF) ; +5 Int.
SKILLS:
Bluff 6(+10/+14 Attracktive), Diplomacy 6(+10/+14 Attractive), Discable Device 7(+12), Computers 7(+12), Craft [
Chemical
] 10(+15), Craft[
Mechanical
] 10(+15), Knowledge [
Technology
] 15(+20), Knowledge [
Life Sciences
] 15(+20), Medicine 9(+10), Notice 7(+8), Sense Motive 8(+9)
ENHANCED SKILLS:
Acrobatics 8
FEATS:
Attractive 1, Eidict Memory, Inventor, Improvised Tools, Online Research, Speed of Thought
ENHANCED FEATS:
Dodge Focus 3, Improved Aim, Move-By Action, Power Attack, Precise Shot
POWERS:
"
Internal Organic Computer
",
Feature
1 [Computer]
BIOPUNK SUIT
,
Device
18 [hard to lose] (Power Feat: Restricted 2 [Jason Creed DNA]) * 74 PP
"
Life Sense
",
Super-Sense
7 [Detect Life 3, Accurate, Acute, Analytical]
"
Life Support
",
Immunity
9 [Lifesupport]
"
Carapice
",
Protection
12
"
Chemical Thrust
",
Flight
8
"
Combat Inctincts
"
Enhanced Feats
7 [Dodge Focus 3, Improved Aim, Move-By Action, Power Attack, Precise Shot]
Enhanced Skill
2 [Acrobatics +8]
"
Bacterial Infusion
"
Enhanced Fortitude
3
Enhanced Reflex
3
"
Bio-Weapons, Ranged
",
Blast
12 [Power Feat: Accurate 2, Variable Descriptor 2 (Biological)]
AP - "
Bio-Weapons, Melee
",
Strike
12 [Extras: Penetrating (+1/r) ; Power Feat: Accurate 2, Variable Descriptor 2 (Biological)]
AP - "
Bio-Weapons, Explosive
",
Blast
8 [Extras: Burst Area (+1/r) ; Power Feat: Variable Descriptor 2 (Biological)]
AP - "
Microbial Infection
",
Nauseate
12 [Power Feat: Accurate 2, Variable Descriptor 2 (Biological)]
EQUIPMENT:
N/a
DRAWBACKS:
Normal Identity [Full Round Action] (-4 pts)
COMPLICATIONS:
Bad Boy [Reputation]
- Jason is, by legal defanition, a criminal. He's hacked government computers (among others), performed unliscened medical procedures, and has no qualms with meeting out his own brand of justice.
Transhumanist [Motivation]
- Jason believes humanity should control their own evolutionary destiny through integration with technology and the mastery of biology; both their own others species.
Annex [Relationship]
- While no longer a member of the cabal, Jason maintains ties to the collective of transhumanist scientist known as Annex.
He's been around [Enemy]
- Jason has made his fair share of enemies in his varied careers. As a scientist his stance, and practices, haven't always made people happy. The same can be said his time working with corporations. There are also handfuls of criminals, rival mercinaries, terrorists ... and so on, that he has opposed or been hired to work in opposiotn to.
Abilities 20 + SKills 24 + Feats 6 + Powers 75 + Combat 8 + Saves 21 - Drawbacks 4 = 150/150
BACKGROUND:
Jason was born into a low income family that was too busy trying to make money to notice him. As a kid he got into a lot of trouble, always exploring, pushing boundaries, and looking for answers to questions. Even as a child he had an amazing mind.
By the time most young adults were entering highschool Jason was already in college flexing his brain. He was younger than his academic peers, but Jason saw it as a challenge to be overcome. A means of excersicing social skills and getting better at interpersonal relationships. Young Jason could have been anything he wanted to be. Such was his potential. His family wanted him to persue a high paying corporate or medical career. Jason had loftier goals. He wanted to change the world.
While he continued to persue his education Kirr Industries recruited Jason to help bolster their budding bio-tech R&D. Admittedly, he took the job to exploit them. He didn't care about comercialization. Jason wanted access to their resources and personnel to further his own research. The corporation had its own shady dealing and Jason worked against them, in his own way, from the inside. Later he'd find out they were selling biological weapons to terrorists, and thwarted them with a proto-type of his Biopunk suit. The suit, which was built using Kirr's own resources as well.
Once he saw what the suit could do Jason expanded his vigilante campaign and grew the attention of authorities as well as the transhumanist group Annex. The cabal was a collection of scientists and supporters that put their research to use. They were generally benevolent, and some might even call their endeavor's heroic. Like in the comic books. As he was beginning to break away from Kirr Industries - working with them was becoming too dangerous - Jason was invited to work with the group and took after feeling the group out joined them. He even operated with group of young firebrand adventurers that felt the need to go vigilante, like himself, for a while.
As Jason's exploits grew Annex began to seem him as more of a liability than a boon to their organization. He drew too much attention. Without any hard feeling Jason departed from the group and underwent a period of solo endeavors. Eventually he was seeing the downside of not having a backer. With no paycheck his research slowed and Jason began taking various odd jobs from the well-to-do in order to keep money in his pocket. Mundane jobs were too boring, and didn't pay enough. Besides the merc work allowed him to test out some of his research in the field.