Re: New Vindicators Academy of Europe (OOC - Full)
A few years ago, I undertook a small project for my tabletop game. Most of you probably remember my early attempt to incorporate maps into this game. It's an idea that might have helped us, but was difficult to maintain, though admittedly, I've given thought to making a map, posting it, and have character location in my initiative order, like how I track conditions. The thing is, I like maps. I think it makes us think a bit about what to do with our round. You get an action and a move action each round, but often in combat, our orders become "I punch this guy" and that's that. We don't make full use of the game by not having a representation of the field.
I wanted to change that for my tabletop group (I still like you guys more). I also wanted to make use of the miniatures one of my players makes from unwanted HeroClix figures. HeroClix uses paper maps, and... well, that got the wheels turning...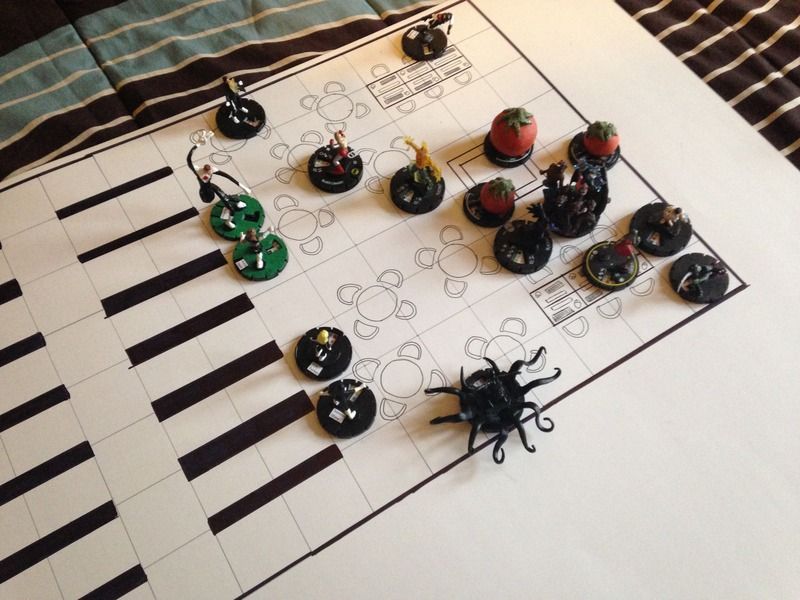 You can buy poster board with grids on them. They're very faint and hard to see, so the first thing I do is go over them in a light blue (it shows well, and doesn't confuse anyone against the black outline of the environment. I have invested in a small trove of light blue and black Sharpies. Then, using a design on graph paper, I map out a space.
The first thing I did? Create the New Vindicators Academy of America. The school is composed of sixteen sheets of poster board. The east and west wings are too big to fit on a sheet together, so each floor of the wings gets their own sheet, each floor of the lighthouse gets one, the basement level spans four, the sublevel has two... four of those floors are dorms, which I use a single sheet to represent, with a legend showing where everyone's room would be, based on whatever floor we're on.
The first session I got to roll these out was great--one of the best nights we had. Essentially, I'd been planting the seeds for a long while that a group of four students were expelled the year before, for attacking a teacher who made sexual advances towards one of them. The kids are Volt (electric controllers, because Oubliette can never have enough), Ironside (imagine if Colossus was a teenage girl), Infinity (spatial control and time stop), and, most importantly, Mythmaker (summon monster, limited to pop culture). These four shut the school down and went looking for the teacher who wronged one of their own. The first three were just meh, but Mythmaker allowed me to let the players fight Killer Tomatos, Gozer the Gozerian, Teke Teke...
Some of the best moments that night were Derryl, in the blacked out basement level, and his flashlight stops on the statue of an angel, or when John hears "Wanna date?" echoing down the hall.
Anyway, pictured above are some of the core cast of the Tabula Rasa game, duking it out with Section 8 (the expelled kids) and a few of Mythmaker's monsters in the school's library.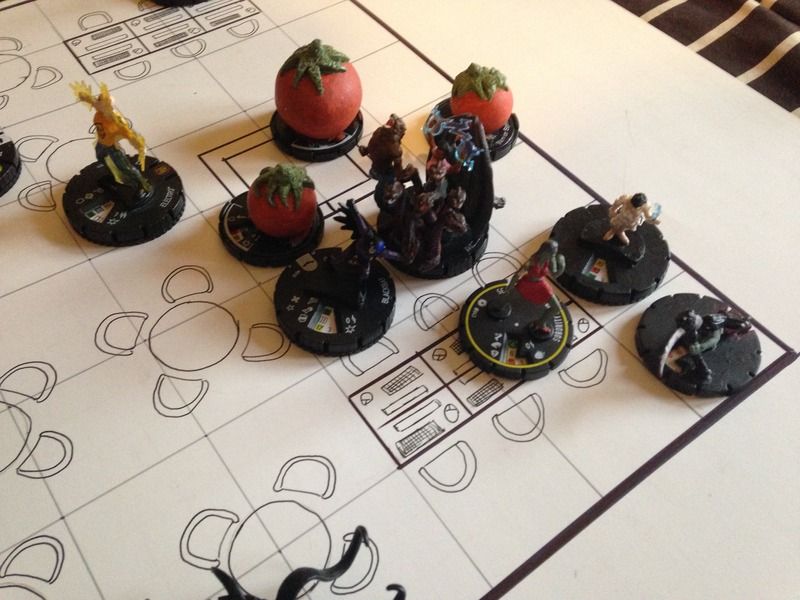 With some of these, I take a regular ball point pen to draw in furniture. If I were as talented as HH, I could probably make things more recognizable, but those are study cubicles with computers, tables, and chairs. Lots and lots of chairs.
In the month between sessions, I got to work on some of our more frequented locations. The NVA kids frequent a club called Hell in a Handbasket, so I devoted two sheets to it--a main floor and an upper level. Here, Lodestone, Fathom, and Bulwark are facing the Damned in the second floor dinning area. The crosshatched section behind the Damned is meant to be open air, as it would look down onto the stage below.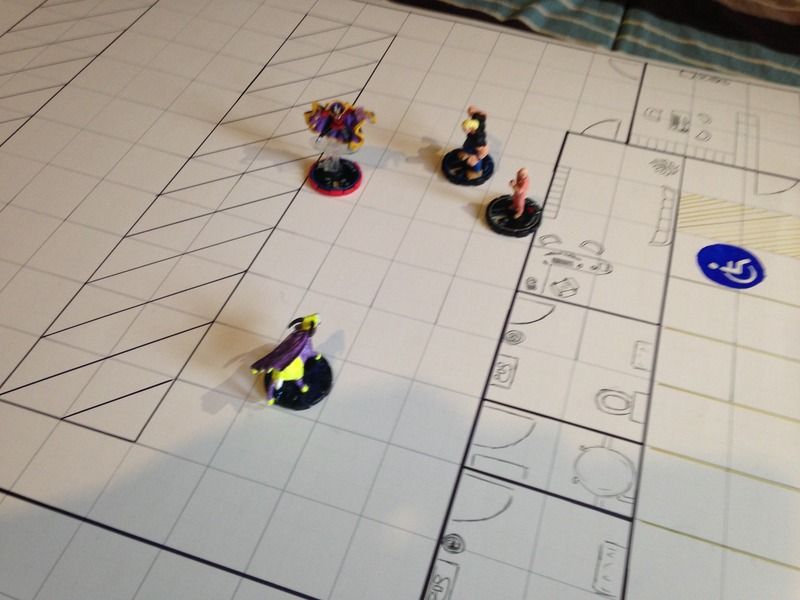 I also drafted some generic environments I could see us using every so many sessions. Here, Doctor Venture, Brock Sampson, and Doctor Orpheus face off against the Goat in a warehouse. Again, my artistic talent is limited, but that's supposed to be an office, rest rooms, a maintenance room, and a break room. Never mind that I apparently thought this warehouse needed 10' x 10' bathrooms that house a single toilet. Not pictured: the crappy forklift I cut out so it could be moved around the map, or hefted, or telekinetically thrown, or whatnot.
Did you know that you can only have four images in a single post? I didn't. Guess I'm gonna break this into multiple posts...