The last mission was a bit rough. Not in the usual sense of the word as in bruises and such, but in excrement. It turns out that saving a cargo ship converted to a migration ship full of corpse eating slugs leaves more than a little leftovers after they feasted on the drones harassing them. So, the day of cleaning was more of a relief than a chore.
As a payment of sorts, the crew had been given enough rations and refreshments to make even the most greedy pirate say enough. For a few hours at least, the crew had a chance to unwind in a smell free environment. While recreating in whatever fashion they chose, the beacon indicating a message from the Independent Alliance sprung to life. In addition to a messaging device, it allowed the crew to prove they were loosely aligned with the Independent Alliance in the case of attack by someone else in the alliance.
Once the crew had assembled on the bridge, the holographic projection of a simple cargo ship appeared before them.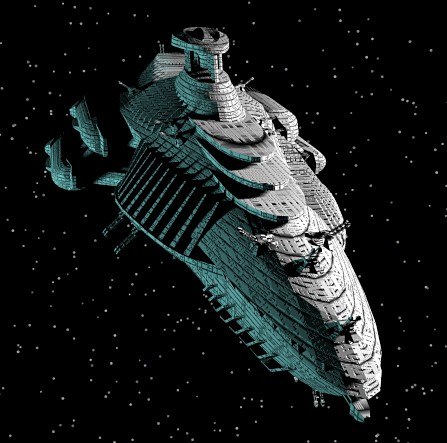 We need your help urgently. A ship with possibly unimaginable power, enough to break Ohmís defenses has reappeared after more than several thousand years in the Warpwold. Our records indicate Omega sent it in with a thousand drones to retrieve an artifact of power beyond imagination even for Omega. He never heard from the ship again. We are sending you the coordinates with this message. Others have most likely spotted it as well , but you are the only ones can count on who can get there in time. Our extra long range scans do not reveal any life signs and it is not returning any messages. It is static. All we need it to make sure that weapon does not end up in the hands of our enemies and if possible to assess what it is. We are counting on you.
When the message finishes, the holographic image changes to a map of the Terminus and a dot in an area long since thought abandoned due to the rigours of getting there through the entropy storms. No conventional drive ship even bothers trying to go there anymore due to most pilots not being able to get through.
---
OOC
In terms of getting there, you can
1) Use the blink drive, but will be powerless for effectively two rounds upon arrival.
2) Try to fly through the Entrophy storms, requiring three successful DC 30 vehicle checks. Each failure results in the Jolly Roger taking DC 35 damage with even a successful damage save resulting in a -1 toughness.
3) Something I didn't think of.