Episode 1: Induction Day
You stand outside the gates of the prestigious Carson Academy for Higher Learning. Next to the gate, there is a plaque that reads "Per Ardua Surgo. Ad Altiora Tendo." Even from a first glance, you can tell that this a school for superhumans; some pupils arrive by flight, while others just barely skid to a halt after travelling at superspeed, and you even see one girl step out a portal and stroll up to the gates as casually as someone would get off a bus. There are animal people, androids, aliens, and even some mystical creatures like elves and fairies among the students. It's almost surprising to see non-superhuman students (or at least, ones that appear to be normal) among the crowd.
As you step through the gates and into the main campus, you are greeted by cheery (perhaps
overly
cheery, depending on your mood) school staff who hand you a map of the campus and inform you to head to the admin building for your room number and schedule. Other than that, they say, you are free to explore the school and meet your fellow students until 4:30 (about an hour from now), when everyone will gather in the auditorium to hear a speech from Ms Woodrow, the school's head teacher.
Of course, at some point after that, you're expected to attend another meeting - a meeting with the All-Star Squadron. Just yesterday, you were contacted by a member of the Squadron and told that you will be brought in for a meeting after your induction day at Carson to meet your other teammates and the entire Squadron for the first time. You're not sure where this meeting is going to take place, but you were told to "expect a personal talk from the head teacher" beforehand. Until then, however, the only thing to do is act like this is a normal induction day and go about things normally.
OOC: So yeah, for now you guys have basically free rein to RP with each other and the NPC students (who I'll introduce as you explore the school).
Here's the map of Carson Academy: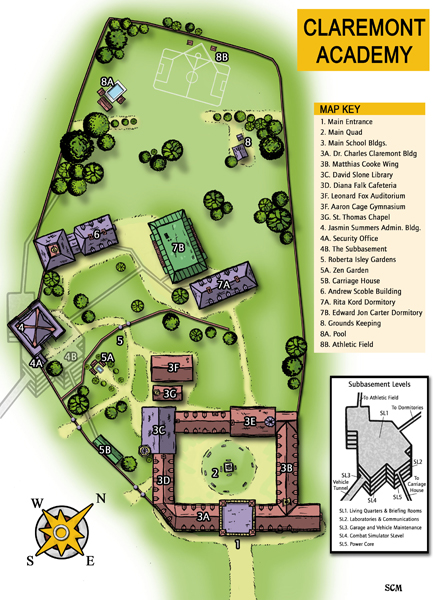 Just pretend that the yellow box says 'Carson Academy' and that those subbasement levels don't exist, because I'm too lazy to find another map.