Re: Storn's New Art thread for Perusal and Swiping!
Thursday night is my game night. One of the other players is the amazing artist, Steve Ellis,
http://steveellisart.com/
. We often talk art, share tips, what we are working on and the like. This last Thursday, I came with a 1/2 sheaf of this thin yellow toned paper I had found at Hobby Lobby, because we both like working on toned paper. To give to Steve so he could play with it too. He, totally coincidentally, brought me a 1/2 sheaf of gray toned paper which had some tooth to it and some real thickness, like 80 lb or something.
The yellow that i gave him is really thin, only good for sketching, although the piece below that I doodled, was not inked, it did seem to hold up to some inking I did in the corner. I really like that yellow paper is not so dark that my prelim pencil lines are tough to see, which happens in anything nearing midtone paper. But it is still dark enough that white pencil or white ink still is a viable way to work in the lights.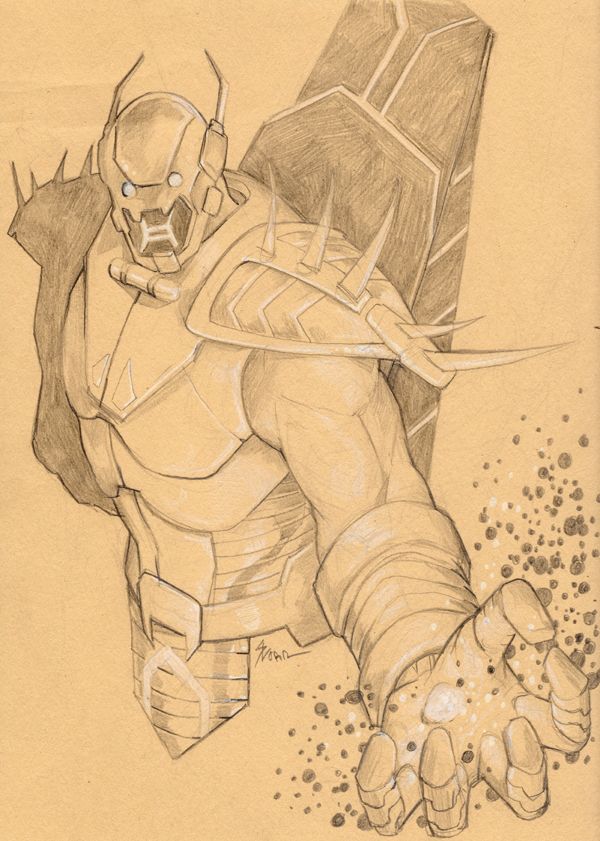 I did two sketches (see below) Thursday night, one was of our actual player character, Xian Xiang, our diplomat turned spy turned ship captain in our Uncharted Worlds game. And the hatchet guy. I gave Xian to our player Mike and so the snap is with my iphone, the color of the background with this paper is much more french gray than the tan that the iphone picked up. The hatchet guy was scanned this weekend and so it shows a bit closer what Steve's gray paper is like... but still came out a bit lighter and warmer than in real life, but it is off by only 5%.
But Steve's paper has quite a bit of texture. Which I don't love when I go with toned sketches to some kind of digital finish, because I tend to work with multiply and that texture can sometimes look crappy. But because the paper was fairly thick, how would it stand up to acrylic paint? Quite well, I think. The paper did buckle just a small amount due to me using thin washes at time. Steve Prescott (another fabulous artist:
http://prescottartblog.blogspot.com/
who I happened to go to school with) turned me onto some heavy body acrylics of late and I'm enjoying them. Can't wait to use them as an underpainting for an actual oil painting sometime soon.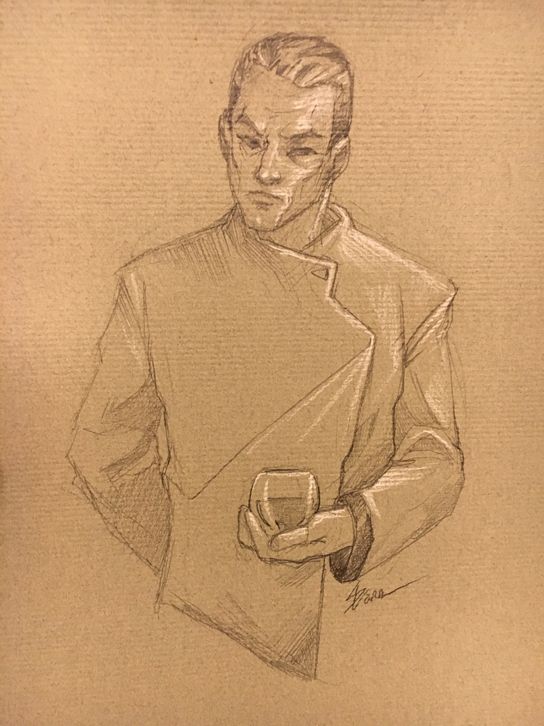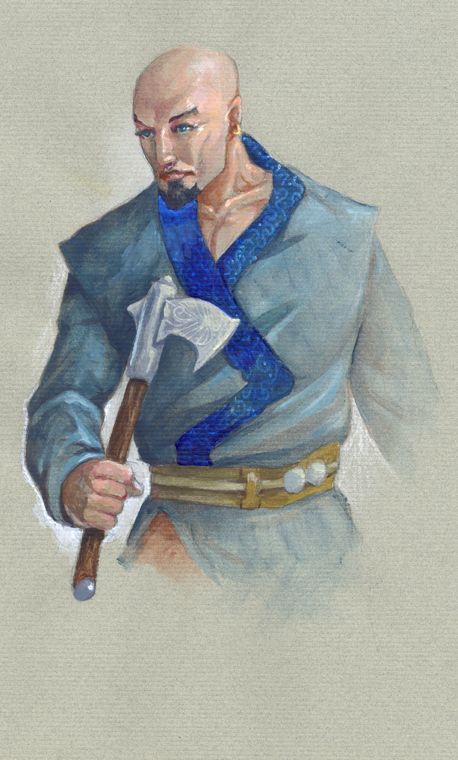 I love when art is play, because that is when some cool learning happens.